Large Floor Standing Vertical Electric Roll Mill
Description

Large free standing Electric Roll Mill
CE Certification
The machine is set up for forward and reverse via foot pedal operation
Operational Features:
Forward and reverse manually.
Continuous running slowly when guard is up
Continuous running when guard is down
Foot pedal only operation for extra security both forward and reverse.
Fold down stainless steel tray to work from reverse side.
Thickness gauge (adjustable gap between the two rollers 01 mm to 15 mm)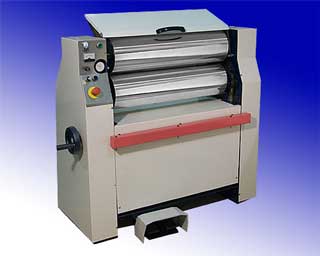 For Milling and Calendering 2 Part Silicone
See the VersaSil product range for suitable products.
Specification
Width of the Stainless steel Rollers = 750 mm
Size of machine.
Full length of machine = 1.2 m
Roller length = 750 mm
Width = 600 mm
Height = 1 m.
Weight = * MW-20 (approx. 200 Kg)
Electric Power Supply.
230 Volts/50 Hz (single phase)